I love eggnog! But, since I don't consume dairy anymore, I haven't drank eggnog. (since most eggnog recipes contain cream). I thought it was a shame that a lot of holiday deserts contain cream (well, the kind I usually ate did). Sometimes it can be hard to find a replacement for cream if the outcome for the recipe is supposed to be fluffy of whipped. But, when I saw this GREAT idea for using canned coconut milk, I thought "Why not? Sounds like a good idea!" By the way, it is a great time to be thinking about eggnog! :)
Recipe:
1/4 cup of organic sugar/sugar replacement
1/2 tsp. nutmeg
400mL canned coconut milk
1 tsp. cinnamon
2.25 cups of almond milk (I used Silk's original)
4 egg whites (I used farm fresh)
Pinch of allspice (optional)
Note: Slightly adapted from
Healthful Pursuit
Separate egg yolks and pour egg yolk in medium sized bowl. Set aside. In medium saucepan, combine the rest of the ingredients. On medium heat bring it to a simmer. Bring heat back to low. Add 1/4 cup of the liquid to the egg yolk, while continuously stirring. Continue to do this until you've added about one cup of the liquid. Pour back in the saucepan and bring heat to medium, while letting simmer for about four minutes. Stir continuously while simmering.
Remove from the stove top and pour and serve or store in the refrigerator.
Optional: sprinkle finished eggnog with nutmeg.
Link of the day:
Homemade Coconut Butter by Chocolate Covered Katie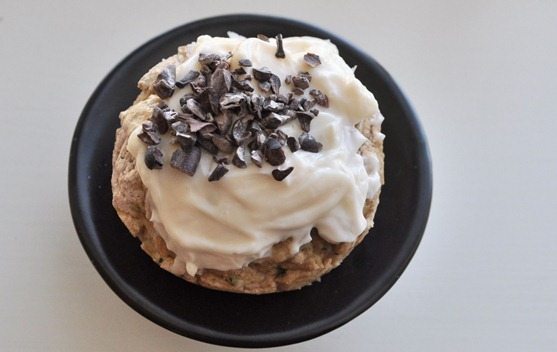 What's your favorite Christmas tradition?